STATIM Sterilizers, Anodizers, and more for Professional Body artists in USA.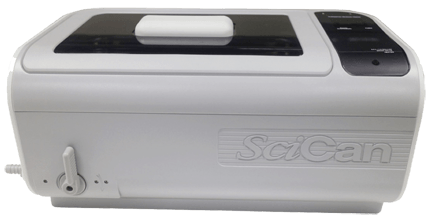 StatClean Ultrasonic Cleaner
SKU SC-P4862
Product Details
Treat Yourself to a New Ultrasonic.
StatClean's 1.6 gallon tank and convenient self docking lid, holds a variety of instruments in the unique hands free drying basket, making it the perfect ultrasonic to complete your reprocessing needs.

FEATURES
Quiet
Minimize noise level with StatClean's 4.5mm thick wall housing and tank lid.
Made from engineering grade plastic making it quieter than most steel
Easy To Use
3 color LED touch screen conveniently displays the 1-30 minute timer and 5 temperature settings with advanced power off memory capability memorizing last timer and temperature setting.
Easy to access drainage valve – Eliminates manual emptying and potential spills.
Power
Two ceramic heaters are mounted under StatClean's tank for even heating.
Independent control circuits for each transducer increasing up to 40% higher cleaning efficiency.
---
Specifications
Tank Capacity: 1.6 gallon (6.0L)
Maximum Capacity: 1.3 gallon (5.0L)
Minimum Capacity: 0.9 gallon (3.35L)
Tank Size: 12.7" x 8.1" x 3.9"
Longest item fits inside tank: (32.3 x 20.5 x 9.9 cm) 13.4" (34.0 cm)
OPTIM® 28
StatClean's Cleaner of Choice.
Effective cleaner
Efficient 5 minute clean time
Gentle cleaning experience
Environmentally friendly
Stabilized Hydrogen Peroxide
Manufactured by VIROX Technologies Inc.
---
Download
Save this product for later