STATIM Sterilizers, Anodizers, and more for Professional Body artists in USA.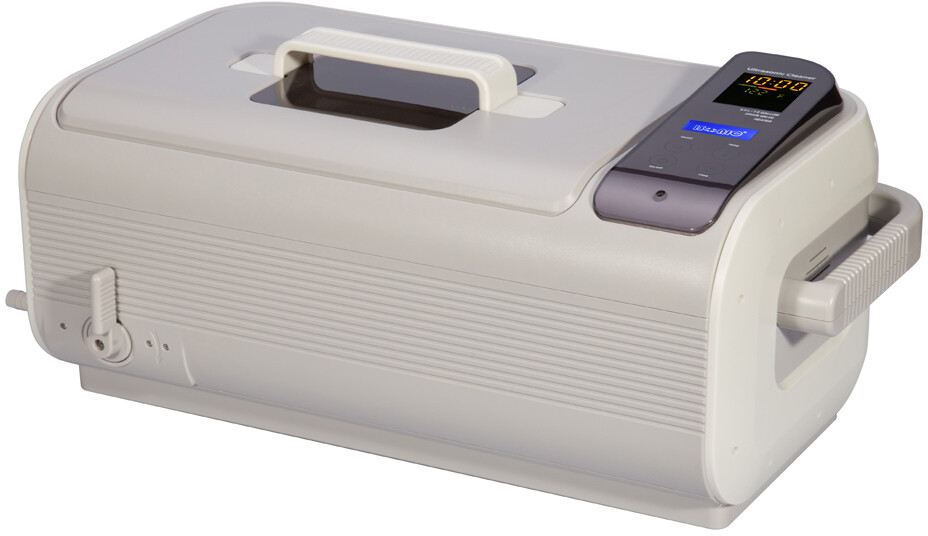 Ultrasonic Cleaner 6L/1.3gal
SKU UC6L
Product Details
Treat Yourself to a Powerful New Ultrasonic.

1.6 gallon tank and convenient self docking lid, holds a variety of instruments in the unique hands free drying basket, making it the perfect ultrasonic to complete your reprocessing needs.

FEATURES
Quiet
Minimize noise level with 4.5mm thick insulated wall housing and tank lid.
Made from engineering grade plastic making it quieter than most steel units
Easy To Use
3 color LED touch screen conveniently displays the 1-30 minute timer
Advanced power off memory capability for memorizing last timer setting
Degas function to remove air bubbles
Easy to access drainage valve – Eliminates manual emptying and potential spills.
Power
Two powerful stack transducers for strong cleaning. Cleans much faster and more thoroughly than other units
Independent control circuits for each transducer increasing up to 40% higher cleaning efficiency.
Two cooling fans to improve heat dissipation and continuous operations
---
Specifications
Tank Capacity: 1.6 gallon (6.0L)
Maximum Capacity: 1.3 gallon (5.0L)
Minimum Capacity: 0.9 gallon (3.35L)
Tank Size: 12.7" x 8.1" x 3.9"
Longest item fits inside tank: (32.3 x 20.5 x 9.9 cm) 13.4" (34.0 cm)
---
Included Accessories:
SOB4862A One-piece stainless steel basket
Power cord
Drain hose
Multiple optional accessories:
BHK02A

Double beaker holder for small parts like tapers or jewelry. Fits 9oz disposable lidded PET cups for aseptic use
PB4862A Plastic basket with unique draining feature

IT4862A Removable polished stainless steel cleaning chamber for corrosive or expensive solutions.
Save this product for later