STATIM Sterilizers, Anodizers, and more for Professional Body artists in USA.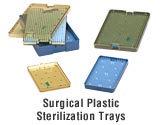 Surgical Sterilization Tray - Large Single
SKU 6100A
Product Details
SURGICAL Instrument cassette organizers
Large Double Stack - 6100A
6.0" x 10.0" x 0.75"
Statim 2000 holds 1

Statim 5000 holds 2
If you are not familiar with their convenience for instrument sterilization and storage, consider trying one or two. They keep your equipment organized and avoid condensation for fast drying. They can wrapped or processed unwrapped. They can be used to work out of the Statim Cassette, and directly on a work surface such as a Mayo stand without the need for CSR wrap or a dental bib.
The silicone nib mat can be removed or cut to your preferred shape to allow for more space or different organizational options.
Instruments are returned to the tray, then the whole tray is processed in the HYDRIM on a heavy duty cycle or in an ultrasonic for at least 20 minutes.
The processed surgical trays can then be sterilized in the Statim either unwrapped for immediate reuse or sub-sterile storage, or wrapped for sterile storage.
Plastic sterilization tray with clear amber top with silicone nib mats for delicate equipment, for better steam penetration and faster drying of equipment for procedures
Save this product for later