STATIM Sterilizers, Anodizers, and more for Professional Body artists in USA.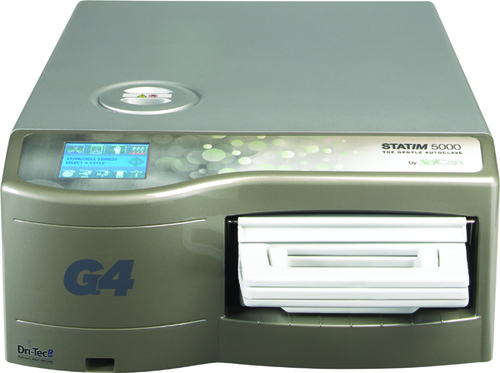 Statim 5000 G4
SKU G4-201103
Larger volume for wrapped loads, same Statim technology!
Product Details
Introducing The New Generation of Statim, The Statim G4 Series
Canonsburg, PA – SciCan has set the benchmark for sterilization and instrument reprocessing technology.
For more than 20 years SciCan has been developing and manufacturing highly innovative infection control products that address the need for versatility, flexibility, and efficiency in today's environments.
SciCan is proud to unveil the newest STATIM family member, the G4 series. The STATIM G4 series is the same renowned and trusted autoclave it has been for over 20 years but now boasts a new contemporary look, functionality and connectivity that is the first of its kind. The G4 technology will change the way you interact by providing a direct channel of communication through the Internet to increase productivity and limit downtime.
Still powered by SciCan's signature steam technology to provide sterilization at speeds faster than conventional chambered autoclaves, the STATIM G4 series has been drastically upgraded with a level of interactivity not seen before.
New look
The STATIM G4 series has been modernized with a new fascia that is fresh and contemporary.
Color touch screen
A large 3.5" high-resolution touchscreen offers a vivid display of messages and current cycle information all with extraordinary clarity. The bubble level has been integrated into the high-resolution touchscreen.
Built-in data logger
Gone are the days of messy thermal paper, clumsy printers or potential failures with external data loggers. With increasing stringency amongst national guidelines, the STATIM G4 series now saves all the data from each cycle. This data can be copied onto the included USB drive, viewed on screen, or remotely stored in the Cloud via email.*
STATIM G4 technology
SciCan's STATIM G4 series Technology offers a platform with endless possibilities. The product expansion and modes of communication will provide visibility from every facet, from usability to troubleshooting.
This is a very exciting time for SciCan, as we are embarking into new territory with cutting edge technology. SciCan has always demonstrated innovation and this is just another example of how we are setting new standards for infection control.
*Based on your email providers storage capabilities
---
This model has all the benefits of our classic STATIM 5000 Cassette Autoclave
The STATIM 5000 "Classic" Cassette Autoclave has been superseded by the G4 model
Ultra-fast 9 minute unwrapped cycle.
17.5 minute wrapped cycle
Exceptional instrument turnover
15 minute Dri-TecR Drying Technology
Reduced instrument investment
Prolongs instrument life
Larger than the 2000, the Statim 5000 has an additional sterilization cycle and a roomier cassette designed to process bulkier instruments and greater loads. It's a reliable cassette sterilizer that's compact enough to fit in patient treatment areas and fast enough to sterilize expensive Lasik, PRK, endoscopic and cataract instruments, including phaco handpieces, between procedures - it can complete an unwrapped sterilization cycle in just nine minutes and a wrapped cycle in just 17.5 minutes.*
The Statim 5000 is fully automatic. Simply select one of four sterilization programs and with a single touch of the keypad, begin the cycle. An advanced microprocessor controls all functions and maintains optimal sterilization conditions, from start to finish.
SciCan's Statim cassette sterilizers have a biological effectiveness that has been proven in tests for hollow and solid instruments at many internationally recognized institutes in Canada, the United States and Europe.
* Cycle times do not include drying.
---
SPECIFICATIONS:
Unit Size :
L 555mm x W 415mm x H 190mm
L 21.75" x W 16.25" x H 7.5"

Cassette Internal Dimensions :
L 380mm x W 180mm x H 75mm
L 15" x W 7" x H 3"

Reservoir Capacity :
4.0 litres (distilled water)
Weight without water :
73lbs or 33kg

Power Consumption :
110V, 60Hz, 11A
---
Save up to 35% off the list price of a STATIM 2000 or STATIM 5000 cassette autoclave when you use your Section 179 tax deduction: Click here for more info
---
GET A QUOTE to finance your equipment
---
The use of STATIM sterilizers was introduced to the body art field in the early 1990's by Brian Skellie at Piercing Experience, and developed in community along with other practical innovations in applied safety precautions and techniques.
Save this product for later