STATIM Sterilizers, Anodizers, and more for Professional Body artists in USA.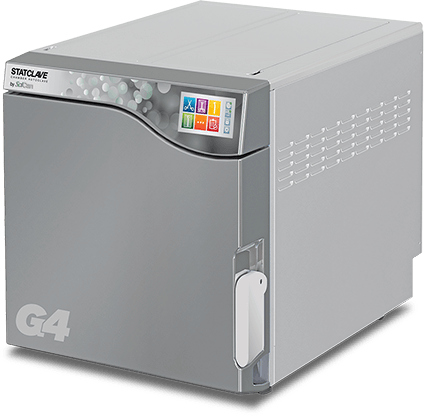 StatClave G4
SKU G4-621103
Product Details
(120V) Wifi enabled, waste water direct to drain included
---
This changes everything. Again.
Introducing the STATCLAVE™ Chamber Autoclave
With the reliability and trust you've come to expect from STATIM, the STATCLAVE G4 is designed to deliver speed, capacity and efficiency to your practice. STATCLAVE is a Class B vacuum sterilizer that incorporates both pre-sterilization vacuum to improve steam penetration and post-sterilization vacuum to improve drying. Its 11" chamber and vacuum-assisted closed-door drying efficiently delivers sterilized and dried wrapped instruments.
Fast
STATCLAVE can efficiently sterilize and dry wrapped instrument loads in as little as 38 minutes.
Dry
Closed-door drying and vacuum technology results in perfectly dried instruments every time.
G4 Technology
SciCan's G4 equipment can connect and send information to your smart devices or computer so you can have cycle data, instructions, and maintenance notifications at your fingertips.
Capacity
STAT CLAVE's 11" chamber can sterilize up to four full-size cassettes and 4 exam cassettes or 20 pouches with included pouch racks.
Versatile
STAT CLAVE STATCLAVE offers a number of filling & draining options, including easily accessible and cleanable top reservoirs, front manual fill and a rear automatic fill option that can be connected to the VistaPure water filtration system for automated filling.
Gentle
Fresh water is used in every cycle, reducing the buildup of oils and debris.
---
STATCLAVE G4 Chamber Autoclave
Featuring the STAT CLAVE G4 Chamber Autoclave for sterilizing dental instruments.
STATCLAVE G4 Launch at PDC 2019
Ted Gray and Melissa Summerfield discuss the latest innovation from SciCan, the STAT CLAVE G4 Chamber Autoclave.
---
Cycle Times and Maximum Load Weights (120v)
Cycles
Temperature / Time
Cycle Times*
Maximum Load Weight
STATCLAVE G4
Solid Unwrapped
270°F (132°C) / 4 mins
18 mins
13.2 lbs (6 kg)
Solid Wrapped
270°F (132°C) / 4 mins
44 mins
13.2 lbs (6 kg)
Hollow Unwrapped
270°F (132°C) / 4 mins
23 mins
13.2 lbs (6 kg)
Hollow Wrapped
270°F (132°C) / 4 mins
50 mins
13.2 lbs (6 kg)
Textiles/Porous
270°F (132°C) / 4 mins
49 mins
4.4 lbs (2 kg)
Rubber & Plastic
250°F (121°C) / 20 mins
36 mins
4.4 lbs (2 kg)
*Cycle time will vary depending on instrument load.
Unit Specifications
STATCLAVE G4
Unit size (L x W x H)†
25" x 17.75" x 19.5" / 635 x 450 x 495mm
Volume
6.87 gal (26 L)
Chamber Dimensions (D x L)
11" diameter, 15" depth / 297 x 381mm
Weight
61.6 kg (135.8 lbs) (without water and packaging)
Voltage
120V, 60Hz, 12 A
†On the right side, allow 2" (50mm) of space for ventilation. Allow for at least 7" (180mm) above unit to enable access to reservoirs. If less than 7" (180mm), screw on hinges can be removed to allow reservoir lid to slide in and out of position.
---
Download
Save up to 35% off the list price of a StatClave autoclave when you use your Section 179 tax deduction: Click here for more info
Save this product for later