STATIM Sterilizers, Anodizers, and more for Professional Body artists in USA.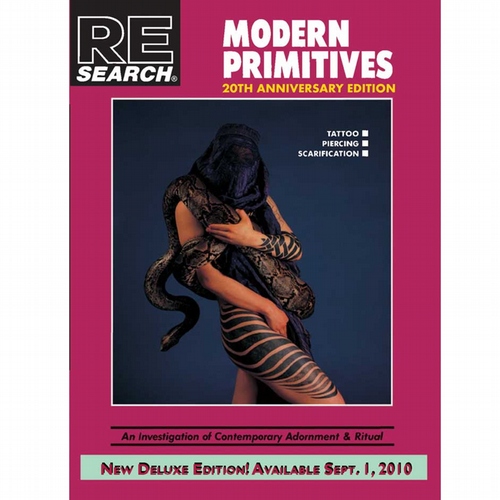 Modern Primitives DELUXE 20th Anniversary Edition
SKU ModernPrimitives
Product Details
Hard Cover remains!
2019 marks the 30th Anniversary Celebration of MODERN PRIMITIVES – a book which launched "a Revolution"…and introduced the world to Body Piercing.
Brand new 2009 interview with Raelyn Gallina, plus tattoo/piercing community sponsorship pages in the back.
Printed on Glossy Art Paper for sharper photography.
Replace your old copy and upgrade as well!
Get the super-archival Hardback
**First published 20 years ago, "Modern Primitives" is still called "the Bible of the tattooing-piercing underground." Here is a celebratory reprinting, complete with a new introduction by original editor/publisher V. Vale. Also added is a new community section, where current practitioners have been invited to have their cards displayed. "Modern Primitives" was the first book to investigate not only the "how" but also the "why" of body modification practices. It reaches far back into history to multiform cultural traditions to illuminate one of today's most wide-spread youth culture visual signifiers. Heavily illustrated with detailed, contemporary photographs, as well as archival anthropological images and drawings of ancient tattoo traditions, "Modern Primitives" was ground-zero for today''s body-modification trends. "A whole new generation needs to be exposed to this foundational handbook and manifesto for the body modification generation."
Save this product for later