STATIM Sterilizers, Anodizers, and more for Professional Body artists in USA.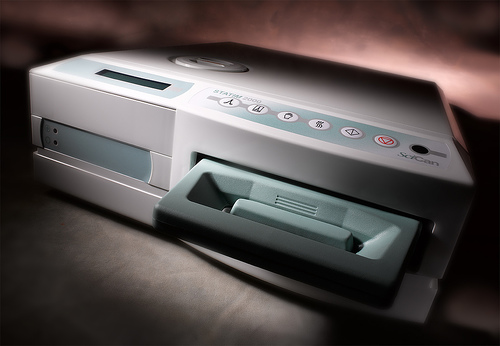 Statim 2000 USED / REFURBISHED [PREORDER]
SKU 2000SPECIAL
Product Details
STATIM 2000 Cassette Autoclave
---
NOTICE: There will be a minimum six week production delay

Reconditioned used units validated and spore tested with one year warranty

Ultra-fast 6 minute unwrapped cycle
14 minute wrapped cycle
Exceptional instrument turnover
10 minute Dri-Tecc Drying Technology
Aseptic transfer of instrument directly to the point-of-use
Reduced instrument investment
Prolongs instrument life
The STATIM 2000 Classic boasts a 6-minute cycle, but has the added advantage of employing a fully removable chamber so you can aseptically transport a set of freshly sterilized instruments directly to the procedure area.
The STATIM 2000 is fully automatic. Simply select one of the three sterilization programs and with a single touch of the keypad, begin the cycle. An advanced microprocessor controls all functions and maintains optimal sterilization conditions, from start to finish.
SciCan's STATIM cassette sterilizers have a biological effectiveness that has been proven in tests for hollow and solid instruments at many internationally recognized institutes in Canada, the United States, and Europe.
The STATIM 2000 is a reliable cassette sterilizer that's compact enough to fit in procedure areas and fast enough to sterilize jewelry, expensive Lasik, PRK, endoscopic and cataract instruments, including phaco handpieces, between procedures - it can complete an unwrapped sterilization cycle in just six minutes and a wrapped cycle in 14 minutes.
Dri-TecC – Convection heat drying technology
The STATIM 2000 uses convection heat to dry instruments by utilizing the remaining heat in the system after the sterilization phase. Heat is captured and released into the cassette, drying wrapped instrument loads in as little as 10 minutes.
Sterilization cycle description chart

| Cycle | Unwrapped | Wrapped | Rubber/Plastic |
| --- | --- | --- | --- |
| Sterilization time | 3.5 minutes | 10 minutes | 15 minutes |
| Sterilization temp. | 135º C | 135º C | 121º C |
| Total cycle time | 6 minutes | 14 minutes | 20 minutes |
01-100008A Cassette complete (with rack 01-106653)
01-100028S Seal & lubricant kit
01-100207S Air compressor filter
01-102119S Microbiological air filter
01-100812S Waste bottle complete
01-100204S Exhaust tube
01-103945S Instrument rack for unwrapped instruments
01-106653 Instrument rack for wrapped instruments
SCI134 Test Strip indicators (box of 250)
01-101783S Water reservoir cap & filter
01-109300S Water reservoir filter

SPECIFICATIONS:
Unit Size :
L 480mm x W 415mm x H 150mm
L 19" x W 16.25" x H 6"
Cassette Internal Dimensions :
L 280mm x W 180mm x H 35mm
L 11" x W 7" x H 1.5"
Reservoir Capacity :
4.0 litres (distilled water) Approximately 40 cycles
Weight without water :
21 kg/46 lbs
Power Consumption :
110-120 V, 60Hz, 1300 W
When you receive your Statim 2000 packing carton, the items listed below will be included.
If any of the items are missing, contact us immediately so that the situation can be corrected.
Cassette Tray and Lid

Unwrapped Instrument Rack

Waste Bottle

Bottle Lid Fitting

Power Cord

Operator's Manual

Exhaust Tube

Tube Mounting Hardware
GET A QUOTE to finance your equipment
*The use of STATIM sterilizers was introduced to the body art field in the early 1990's by Brian Skellie at Piercing Experience, and developed in community along with other practical innovations in applied safety precautions and techniques.
Save this product for later