STATIM Sterilizers, Anodizers, and more for Professional Body artists in USA.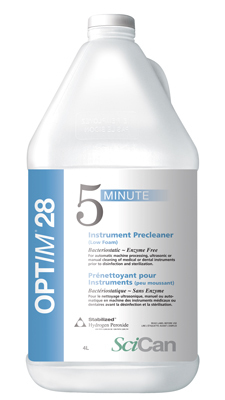 OPTIM 28 ultrasonic solution (4 Gallons /Case) *Backordered until further notice: buy our All-in-ONE enzyme instead*
SKU SCI2800
Product Details
OptIM 28 safe ultrasonic cleaner
Case of 4 GAL
---
OPTIM 28 instrument precleaner
For quick and superior cleaning of instruments, regardless of the processing method.
Benefits
Economical
Safe for staff and the environment
Fast acting 5-minute cleaning time
Bacteriostatic

What is OPTIM 28?
OPTIM 28 is a medical and dental instrument pre-cleaner concentrate (1:128 dilution – 8ml per 1L of water). It offers short, five-minute cleaning times and is used prior to disinfection and sterilization. It is designed to complement the instrument processing technique of your choice: automatic machine, ultrasonic or manual cleaning.
Why use OPTIM 28?
OPTIM 28 is a rapid and easy five-minute cleaning solution to ensure your instruments are clean before disinfection and sterilization. Visible debris that is not removed from your instruments can compromise the disinfection and sterilization process. OPTIM 28 contains Stabilized Hydrogen Peroxide, a highly effective means of cleaning organic debris. It is non corrosive when used at the correct dilution and effective against protein, carbohydrates and lipids.

How safe is OPTIM 28 for my staff?
An enzyme free, low foam and odourless solution that is pH neutral (at in-use dilution), OPTIM 28 is safe for staff to handle and store. It is also non acidic in use and non flammable.
How safe is OPTIM 28 for the environment?

OPTIM 28 is biodegradable and decomposes to water and oxygen within moments of being properly discharged into a drainage system.

Save this product for later