STATIM Sterilizers, Anodizers, and more for Professional Body artists in USA.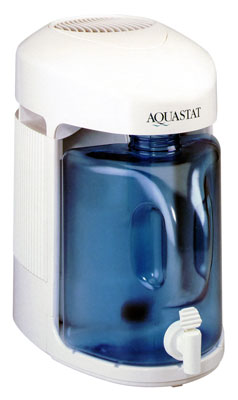 AquaStat Distiller
SKU W10120S
Product Details
AquaStat flash vaporization water distiller
New with full one year manufacturer's warranty.
Forget about buying expensive distilled water.
Make your own from any tap water, even spring fed sources!
Make pure drinking water with the activated charcoal filters

(Available separately)

Makes pure distilled that can perfectly fill any STATIM sterilizer.
Accessories and Parts Available
Weight: 4.5 kg (10 lb.)
Dimensions: 40.6 x 24.5 x 38.4 cm (L x W x H)
(16 x 9 5/8 x 15 1/8")
---
A new wave breakthrough provides clean, fresh water
Protect your equipment by using only clean distilled water in your practice. SciCan's AQUASTAT distiller allows you to forget about buying expensive bottled water or risking damage to your equipment from poor quality distilled water. A patented energy saving design with unique distillation technology kills harmful bacteria and viruses by vaporizing water and then reconstituting it through condensation. The result is water that's 99% free of most contaminants.
AQUASTAT processes soft or hard water from any source including those that are spring fed or municipally piped.
Simply plug it in, fill with tap water and switch on.
With its energy efficient technology, AQUASTAT purifies 3.78 litres (1 gallon) of water in just 4.25 hours. Combine this fast process with a compact, light-weight design that doesn't require any special plumbing or wiring – and you'll have all the fresh water you need.
Save this product for later